Call for sponsoring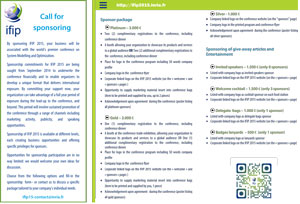 By sponsoring IFIP 2015, your business will be associated with the world's premier conference on System Modelling and Optimization.
Sponsorship commitments for IFIP 2015 are being sought from September 2014 to underwrite the conference financially and to enable organizers to develop a unique format that delivers international exposure. By committing your support now, your organization can take advantage of a full year period of exposure during the lead-up to the conference, and beyond. This period will involve sustained promotion of the conference through a range of channels including marketing activity, publicity, and speaking opportunities.
Sponsorship of IFIP 2015 is available at different levels, each creating business opportunities and offering specific privileges for sponsors.
Opportunities for sponsorship participation are in no way limited: we would welcome your own ideas for discussion.
Choose from the following options and fill-in the sponsorship  form – or contact us to discuss a specific package tailored to your company's individual needs.
Sponsor package
Platinum – 3.000 €
· Two (2) complimentary registrations to the conference, including conference dinner
· A booth allowing your organization to showcase its products and services to a global audience OR Two (2) additional complimentary registrations to the conference, including conference dinner
· Place for logo in the conference program including 50 words company profile
· Company logo in the conference flyer · Corporate linked logo on the IFIP 2015 website (on the « welcome » and « sponsors » pages )
· Opportunity to supply marketing material insert into conference bags (item to be printed and supplied by you, up to 2 pieces)
· Acknowledgement upon agreement during the conference (poster listing all platinum sponsors)

Sponsorship form
Gold – 2.000 €
· One (1) complimentary registration to the conference, including conference dinner
· A booth at the conference trade exhibition, allowing your organization to showcase its products and services to a global audience OR One (1) additional complimentary registration to the conference, including conference dinner
· Place for logo in the conference program including 50 words company profile
· Company logo in the conference flyer · Corporate linked logo on the IFIP 2015 website (on the « welcome » and « sponsors » pages )
· Opportunity to supply marketing material insert into conference bags (item to be printed and supplied by you, 1 piece)
· Acknowledgement upon agreement during the conference (poster listing all gold sponsors)

Sponsorship form
Silver - 1.000 €
· Company linked logo on the conference website (on the "sponsors" page)
· Company logo in the printed program and conference flyer
· Acknowledgement upon agreement during the conference (poster listing all silver sponsors)

Sponsorship form
Sponsoring of give-away articles and Entertainment
Invited speakers – 1.500 € (only 8 sponsors)
· Listed with company logo as invited speakers sponsor
· Corporate linked logo on the IFIP 2015 website (on the « sponsors » page)
Welcome cocktail – 1.500 € (only 3 sponsors)
· Listed with company logo as cocktail sponsor on each food station
· Corporate linked logo on the IFIP 2015 website (on the « sponsors » page)
Delegate bags – 1.000 € (only 1 sponsor)
· Listed with company logo as delegate bags sponsor
· Corporate linked logo on the IFIP 2015 website (on the « sponsors » page)
Badges lanyards – 500 € (only 1 sponsor)
· Listed with company logo as lanyards sponsor · Corporate linked logo on the IFIP 2015 website (on the « sponsors » page)

Sponsorship form